Frequently Asked Questions (FAQ's)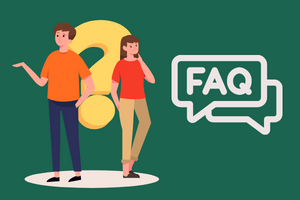 What is DelivMeds?
We are a patient-centric digital pharmacy that connects you with other pharmacies, helping you to find the right pharmacy for the right medication at the right time. Along with our partners in healthcare, we bring convenience and transparency to your prescription dispensing process. Through our App, consumers can manage all prescribed medications in one place for the entire household. With DelivMeds, patients oversee their prescription journey from the beginning to the end as we deliver health to your doorstep.
How do I have a new prescription sent to DelivMeds?
It's easy! Ask your doctor to send your prescription to "DelivMeds" in their electronic health record prescribing system or have them enter our e-Prescribe number: 5744481.
Please remember that to receive your prescription from DelivMeds, your doctor must have your mobile number listed as your primary phone number in their system.
Our App is available on Google Play and the Apple Store.
How does DelivMeds work?
Patients decide how and when their prescription gets filled through the DelivMeds App. When we receive the prescription from your doctor, the DelivMeds App will alert you that it is available to manage. App users can see the status of their prescription in the App, review and pay their copays, and choose between pickup, local delivery, or shipping.
Can I also track my family's prescriptions?
Designed with busy families in mind, you can easily manage your family's prescriptions in one convenient place with DelivMeds. To manage their prescription, view it on the app, and manage the next steps, make sure your mobile number is listed in the Prescriber's system as the primary phone number for your family member.
I have not received my prescription in the App.
To manage your prescriptions, a valid profile with your phone number, your first and last name, and date of birth is required. Please check your profile is setup correctly in the settings of the App.
Do I have to use a Partnered Pharmacy to get my prescriptions?
You may choose any pharmacy; however, pharmacies that are not part of our integrated network will need to be contacted directly for payment and delivery coordination. We are unable to provide status notifications for prescriptions that are not sent to one of our integrated pharmacy partners.
Can I return my medication?
Once a prescription has been sent either by delivery or shipping, the partner pharmacy will be unable to accept a return for the order. If the prescription has not left the partner pharmacy, it can be cancelled at any time.
Do you deliver controlled substances?
Currently, we do not process controlled substances through the DelivMeds App. DelivMeds is a digital pharmacy that transfers all prescriptions to another pharmacy (chosen by you) for dispensing. If a controlled medication prescription is received by DelivMeds, it cannot be transferred to a dispensing pharmacy, and a new prescription must be sent by your doctor to the dispensing pharmacy directly.
What if I have questions about my medication?
Our Clinical Concierge Team is available to answer any questions you have via chat, email, and phone.
I travel on business across the country, does my prescription remain inside my DelivMeds wallet until I arrive at my destination?
DelivMeds makes it convenient to be able to fill the prescription at any dispensing pharmacy while still giving you visibility into all the prescription related information. Once a prescription has been transferred to a pharmacy, you will need to contact DelivMeds to obtain any refills remaining, for you to send it to another pharmacy based on your travel.
What are your Terms and Conditions?
Please click here to be directed to our Terms and Conditions.
What is your Privacy Policy?
Please click here to be directed to our Privacy Policy.
Is my information secure on your App?
The DelivMeds App follows the gold standard in compliance. Our App is 100% HIPAA & PCI compliant. Your information is safe and protected by us.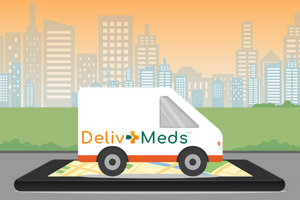 Where does DelivMeds operate for delivery?
DelivMeds is available nationwide. Our pharmacy partners are located in all 50 States and the District of Columbia, but delivery and shipping may vary by each partner. When selecting a partner pharmacy in the App, you will be able to see the delivery or shipping options that are offered through this pharmacy. You can select the pharmacy that best suits your needs.
Is there a fee for delivery services?
Prescription delivery cost is set by our delivery partners, some factors considered to determine the cost of delivery may be distance, driver availability, and time of day for delivery. Please check shipping services offered by the pharmacies in your area for further information.
Does my pharmacy deliver for FREE?
Many partner pharmacies offer free in-house delivery services as mentioned above. Please check for availability within the DelivMeds App.
What if there are no delivery drivers in the area, is there a higher delivery fee?
In areas where prescription delivery services are not available, DelivMeds will offer a variety of options for shipping services through our pharmacy partners.
How will my prescription be delivered?
Your privacy is our number one concern! Your prescription will be delivered in an opaque, tamper resistant package with only your name, order number, and delivery address visible. Our delivery partners will deliver your medication with the utmost care right to your door and real-time delivery tracking information can be found right in the DelivMeds App.
How can I track my delivery?
After confirming your same day delivery in the DelivMeds App, an interactive map will show the driver's location status in real-time and provide an estimated arrival time.
If the delivery is made by a pharmacy in-house driver, you must contact the pharmacy for delivery status.
For overnight or multi-day shipping a tracking number will be provided in the DelivMeds App with delivery details.
What are the delivery hours?
Delivery services will vary depending on your selected dispensing pharmacy's hours. Same day delivery can be coordinated for pick up by a driver up to 3 hours before the pharmacy's closing times. This will allow enough time for the driver to return the prescription to the pharmacy if they encounter any delivery issues. If an order is received after the cutoff time, it will be delivered on the next business day or the next day the pharmacy is open.
Will I need to do anything when my delivery arrives?
Just sit back and relax! You will be able to provide payment and sign for your order directly from your DelivMeds App. Once ready, the driver will bring the prescription to your doorsteps, you may be required to show proof of ID to the delivery driver or sign for the order.
What should I do if I don't receive my prescription delivery?
The DelivMeds App displays real-time delivery information on your order under the "Orders" tab. If your order shows as delivered but you cannot find it at the delivery address you provided, please check the delivery notes. If you are still unable to locate your order, please contact DelivMeds our support line.
I received the incorrect medication.
If the name of your medication does not match what is displayed in the DelivMeds App, please contact DelivMeds via chat, email, or phone.
My prescription order seems to be tampered with or damaged.
Please document the condition in which you received your order and contact DelivMeds via chat, email, or phone and we will be happy to help you!
Can I cancel my delivery?
Signed and paid delivery orders may be cancelled before they are picked up by the delivery driver. Once the prescription has been picked up for delivery, DelivMeds is unable to cancel the order. Pharmacy policies may vary, please contact your pharmacy for further assistance.
Can I choose when my prescription is delivered?
We do not currently offer scheduled deliveries. However, you may contact the pharmacy to arrange when your medication will be ready for pickup.
What personal information is shared with the driver?
Our packages are tamper proof and only your order number, name and address are shared with the driver.
Will the delivery driver be in uniform or in a DelivMeds marked car?
DelivMeds has teamed up with nationwide delivery partners so the delivery driver will not be in a DelivMeds uniform or vehicle.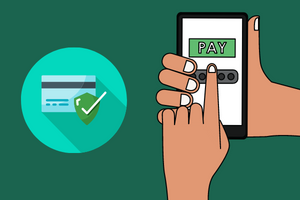 How do I pay for my copay through the DelivMeds App?
DelivMeds has a secure payment portal through our third-party partner directly in the App. No Credit Card information is stored on our platform, making it Payment Card Industry (PCI) compliant. DelivMeds is Legit Script certified to keep your information safe and your mind at ease!
Can I use my FSA/HRA Card for payment?
We currently do not accept HSA/FSA Pre-Taxed accounts.
Do you accept my insurance?
DelivMeds screens your insurance to confirm eligibility but does not process your prescription. The pharmacy you choose to dispense your medication with will process the claim through your insurance.
I don't agree with the amount that I'm being billed for my Co-Pay.
DelivMeds nor the pharmacy can set your copay amount as this is provided directly from your insurance plan. Please contact your insurance company directly for claims adjudication questions.
How is payment collected?
When the pharmacy adjudicates and fills the prescription, the copay amount is presented in the App. If you wish to move forward with the prescription, the App will redirect you to provide a credit card to pay your copay and any additional charges.
Are there any advantages to using DelivMeds when paying cash for my prescriptions?
Absolutely! DelivMeds has partnered with a variety of prescription discount care card providers which can provide you up to 80% savings on generic prescription drugs, and additional savings on brand prescription drugs. Click here to be directed to our prescription discount cards.
How can I update or add a payment method?
First open the DelivMeds App. Navigate to the Settings tab on the bottom navigation panel. Select "Payment Methods." Tap "Add Payment Option" and enter or update the required information.
What are the accepted payment methods?
The secure payment portal in the DelivMeds App accepts all major debit and credit cards.
Can I obtain a receipt for my order?
I was double charged for my prescription order. How do I request a refund?
Please contact our DelivMeds support team, we will gladly review your payments and offer a refund as required.